Welcome To Branch Dojo Samakhushi & Nawa Shanti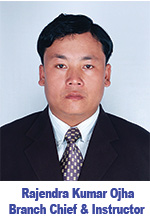 Samakhushi Dojo is a well-established karate training center located in Kathmandu at Samakhushi. It is inside the Ring road. It takes two minutes walk towards Ranibari from Samakhushi chowk to reach the Samakhushi Karate Training Centre. It has a big hall having wide space inside, which posses all the necessary equipment that is needed for Karate players. More than 75 players get training everyday inside the hall. It is quite safe, clean well furnished and decorated with all the essential playing materials like kick pads, globes, kick boxing gloves, karate gloves, punching pads and so on. To avoid cold cement floor a well furnished thick karate mat has been placed on the floor and mirrors on four walls has been placed to watch while practicing games.
The Shito-Ryu Karate-Do, Branch Dojo Samakhushi was established in 2056 B.S. by Rajendra Kumar Ojha karate instructor, with the inspiration of his Guru Thaneswor Rai. This dojo was flourished from the very beginning of its establishment. Mr. Rajendra Kumar Ojha is a well known karate Instructor, International Referee & forth Dan karate Instructor. He has participated different games as a referee and shown his competence widely in this field all over country. Not only that he has also visited many countries representing Nepal in the karate games.
Samakhushi Dojo has organized many games in different parts of the country at National, Regional, Zonal and District level. The players of this school were participated in all those games and secured many medals, along with the best player. Those players have also participated in different games conducted in India and many other countries and returned with many medals which prove the quality of dojo. This dojo has a long history in the field of sports, games and has contributed a lot for the development of individual, society, community and nation as a whole.
Regular training has been provided to the players in this hall by 4th Dan Guru Rajendra kumar Ojha.This dojo since its establishment in 2056. Now there are more than 50 ladies and gents karate players of different belts getting training every morning. They are trained karate, kick boxing and kata. It has its branch at Manamaiju, Shantitol named as Nawa Shanti Dojo which also produces many players. Special trainings have also been provided to all weak players to enhance the further progress. More than 100 players have got black belt from this dojo hall so far, and around 500 players have been qualified in different sector after training of certain months. This karate training proves to be very helpful for security guards to work abroad for national army, police to train in school, bouncer and for British army as well. Not only that it is equally effective to protect oneself as a self-defense from any sudden and unexpected attacks and to built up self confidence among others.
Special camps and training have been recently started targeting interested candidates, school children and others. This karate game is found to be very helpful for the overall development of individual. It makes the person healthy, strong, creative, active and energetic in any sector. That's why it is a boon to be a karate player. Therefore, we all of the players invite you to this Dojo to enroll whenever you are free for the best utilization of time and see how it is beneficial in your daily life.
Thank You !